Propellers for Muncie, Neptune or Motorgo OB2 OB3 OB4 OB5 OB51 OB61 can be cast in either aluminum or bronze and machined for customers.
Getting them cast and machining them is a time consuming and costly process. They usually take 4 to 6 weeks from receipt of order to get cast and back to us. Then machining can take some more time. If you need a prop for any of the listed outboards, please contact us for availability and costs. Approximate cost will be Aluminum prop as cast , not machined $ 75, Bronze $85 Machining cost approximately $ 40 each. Polishing service currently not available. Customer will also need to pay shipping cost. We will require a 50% non refundable deposit when ordering a propeller.
We do have a very few props in stock.
Picture shows  aluminum prop machined and polished, then an Aluminum and a bronze prop as cast
MNP-01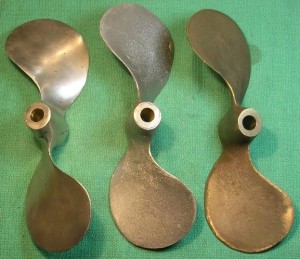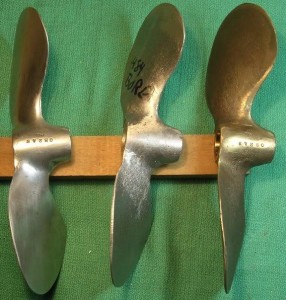 Picture shows a bronze and an aluminum prop  not machined and not polished